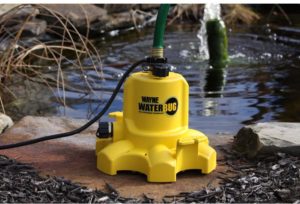 If you're dealing with basement flooding, you'll want a good sump pump (something like the Zoeller M267) along with a backup pump (e.g., a DC model like the Wayne WSM3300) for power outages. However, even if you've got a good sump pump system, there are still many places either in, on, or around your home where water can accumulate. Left untouched, you'll find yourself dealing with property damage, hordes of mosquitoes and other vermin, or simply a lot of water you need to spend your free time getting rid of. Fortunately, you can reduce the risks of rotting, flooding, insect breeding, or other issues with a well-designed and strategically placed utility pump.
Keeping water out of window wells, off rooftops and boat covers, away from  crawlspaces, hot tubs, and laundry tubs doesn't have to cost an arm and a leg. We recently looked at the Wayne EEAUP250 and found it did a good job in around-the-house water removal. Today we'll take a look at the Wayne WWB WaterBug Submersible Pump. It's a solid little pump that clears water and does so for very little money and for a very long time. Our full thoughts are below, but if you wonder whether it's worth buying, we think so, and you can buy it here.
Key Features of the Wayne WaterBug Utility Pump (60 Second Summary)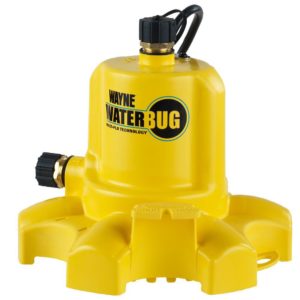 The Wayne WWB WaterBug is a manual utility pump, otherwise known as an electric water removal pump. Designed for water removal from window wells and other flood-prone areas, it includes a 1/6 HP motor with a max flow rate of 1,257 gallons per hour, a figure that drops to 1,125 GPH at 5 feet, 985 GPH at 10 feet, 820 GPH at 15 feet, and shuts off at 30 feet. It can remove water down to as few as 1/16 inches above a given surface.
The WaterBug is submersible and includes a pair of brass 3/4 inch garden hose-sized discharge nozzles (a top discharge and a side discharge). As a manual pump, it does require starting and stopping by the user; it does not include auto on/off functionality. Featuring a 1 year warranty, the WaterBug is 4″ long, 6″ tall, and 8″ wide.
How Does the Wayne WaterBug Compare to the Wayne EEAUP250 and Zoeller 42-0007 N42 Utility Pumps?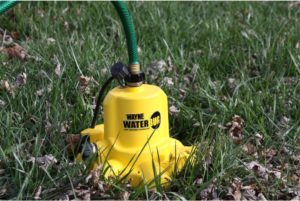 Compared to the Wayne EEAUP250 and Zoeller N42, there are several unique elements in the WaterBug's design that make it worth considering. Like the Zoeller, it's a manual pump, and must be turned on and off each time to operate. The EEAUP250 is an automatic pump. Like the Zoeller, it also features a 1/6 HP motor instead of the 1/4 HP motor in the EEAUP250. Its top water removal speed is 1,257 gallons per hour, which is faster than the 900 GPH of the Zoeller but less than half as fast as the 3,000 GPH of the EEAUP250. What then, are the advantages of the WaterBug?
First of all, it has by far and away the largest max head at 30 feet, which is 11 feet beyond the 19 feet of the Zoeller and twice as high as the EEAUP250 at 15 feet. This essentially means that the WaterBug can be installed in much deeper water environments (e.g., short wells or deep sump pump pits) while continuing to remove water. Additionally, it's capable of removing water to a much lower level than most other pumps out there, with a minimal water level of 1/16 inch compared to 2/16 inch in the Zoeller and 6/16 inch in the EEAUP250. If your priorities involve removing water to nearly dry levels and potentially from great depths, the WaterBug is hard to beat. It's also the only of the three pumps to include a pair of nozzles in vertical and horizontal positions to make it easier to route your draining garden hose away from the water source.
Our Short and Long Term Experiences Installing and Using the Wayne WaterBug Utility Pump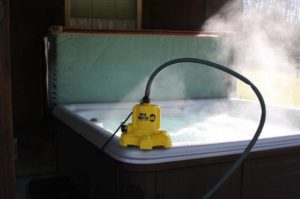 Installation is about as easy as it gets in plumbing; you simply plug it in, connect it to a garden hose via the vertical or horizontal nozzle, turn it on, and drop it in your water zone.
Despite the paltry 1 year warranty offered by Wayne, you should be able to get up to five times as long from the WaterBug as long as you're careful to always be by it while it's running or bite the bullet and connect it to an automatic float switch (see below). The majority of premature deaths related to this pump have to do with people leaving them running and walking away, which is a death sentence for any water-cooled motor in a sump pump without a float switch.
Troubleshooting and Installation Tips to Get Your Wayne WaterBug Working Sooner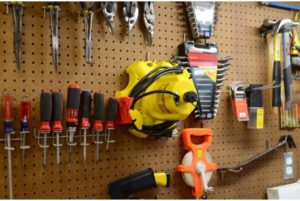 While the WaterBug works well out of the box, we're not fans of the need to turn it on and off whenever we want it to start or stop. Fortunately, it's possible to buy and attach a utility or sump pump controller, which is an automatic float switch that can turn the pump on and off at predetermined water heights. They're also known as piggy back switches or dual float switches. When properly installed, they quickly pay for themselves with the time you save no longer needing to turn on and off (or plug in and unplug) the WaterBug multiple times a day.
As a result, you're much less likely to experience flooding or shorten the life of your pump's motor since you're less likely to forget to turn it on (or off). There are lots of models to choose from, but very few are officially approved for outdoor use. The HydroCheck HC6100 is one we've reviewed and found capable of controlling the WaterBug with a minimum of fuss. When connected, you can set it to turn on once water reaches as low as 8/16 inch and to turn off once water drops to 2/16 inch. It costs about as much as the WaterBug, but if you want the features of the WaterBug with the convenience of automatic on/off capabilities, this is the float switch to get.
If you don't want to spend money on an automatic float switch, keep in mind that you're going to need to babysit the WaterBug whenever you want to use it. If you don't, you'll burn out the motor because it won't turn off once it drains water due to a lack of a float switch. The motor is designed to be water-cooled, which means it will overheat and self-destruct if you run it without water–unless, of course, you connect it to an automatic float switch.
Wayne WaterBug Utility Pump Pros, Cons, and Value Comparison
For its performance, the Wayne WaterBug is one of the best bargains in utility pumps currently on the market. It pumps water reasonably quickly and to a good heights while removing it down to one of the lowest levels you're going to find in anything short of an industrial-grade utility pump. We're also particularly keen of the double nozzle setup, allowing for greater flexibility when installing it around the yard. We strongly recommend pairing it with a utility or sump pump controller (an automatic float switch) to turn it into an automatic pump if you don't want to need to be present whenever it's running.
You can buy the Wayne WaterBug here on Amazon. You can buy the Wayne EEAUP250 here. You can buy the Zoeller 42-007 here. You can buy a universal check valve kit here and a discharge hose kit with clamps here. You can buy a quality automatic float switch here.
If you find our work at PumpThatSump helpful, you can support our relentless reviewing of every sump pump on the market by shopping via our Amazon link for whatever you need to make your house a home. Despite being self-employed, we promise not to spend it all on health insurance.