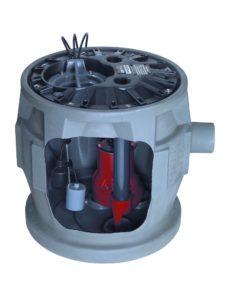 It doesn't matter whether you have a single family home, tenants in a property you're renting out, or employees and customers in a small business setting: if you have a below-grade sewage system (e.g., a toilet in a basement), you're going to need a sewage pump to pump sewage to a municipal system. Similarly, if you've got a septic tank, you already know you'll need a sewage pump to go along with it. There are lots of cheap options out there, but they tend to fail quickly and not so cheaply. We prefer doing things right and doing things once, which is why we typically recommend either sewage ejector pumps in pre-assembled systems or upgrading directly to sewage grinder pumps.
Do you absolutely need a sewage grinder pump like the Liberty Pumps PRG101A? Not necessarily. If your family, tenants, or employees and customers religiously only flush human waste and toilet paper, you'll get by just fine with a sewage ejector pump. But to maximize reliability, you'll want a pre-assembled system like the Liberty Pumps P372LE51 or what we're reviewing today, the Liberty Pumps P382LE51 Simplex Sewage System. It's basically the P372LE51 in a shorter and wider basin. Does it work just as well? We think so. You can read our full review below and you can buy it here.
Key Features of the Liberty Pumps P382LE51 Simplex Sewage System (60 Second Summary)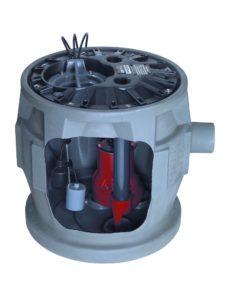 The Liberty Pumps P382LE51 is a pre-assembled residential and light commercial sewage ejector package in a shallow system design. It uses the LE51A sewage ejector pump and is powered by a 1/2 horsepower electric motor with an adjusted maximum pumping rate of 8,400 gallons per hour and 24 feet at maximum head. The pump package includes Liberty Pump's 3 year warranty and is 24 inches tall, 24-3/8 inches wide at the base, and has a maximum diameter of 27-5/8 inches. It weighs 64 pounds and arrives fully assembled.
Liberty Pumps notes the P382LE51 is specifically designed for installation in bedrock and difficult soil conditions due to requiring less vertical excavation than the Pro370 series (i.e., the P372LE51). It can pass 2 inch solids and runs on 115 volts single phase AC at 12 amps with 22.5 locked rotor amps. Thermal overload protection in the motor occurs at 221F while liquids will be pumped at up to 140F. An automatic mechanical wide angle float switch is included and the pump uses a 2 inch FNPT discharge.
The P382LE51 has a maximum pumping rate of 8,400 GPH at zero feet (slightly slower than the standalone LE51A), which drops to 6,480 GPH at 10 feet, 2,640 GPH by 20 feet, and max head and shut off occur at 24 feet. The primary bonuses of the system include the QuickTree approach, which allows you to reach, pull, and replace the float switch via the top of the basin without disturbing neither the pump nor the plumbing, and the basin itself. The pump itself is anchored within a 41-gallon basin that provides a 40% capacity increase compared to standard 18 inch x 30 inch basins, which leads to a greater lifespan in both the pump and switch by pumping an equivalent amount of sewage with fewer on/off cycles. The system arrives fully assembled and includes a clear plastic top cover for protection during masonry and rough-in electrical work.
How Does the Liberty Pumps P382LE51 Compare to the Liberty Pumps P372LE51 and PRG101A?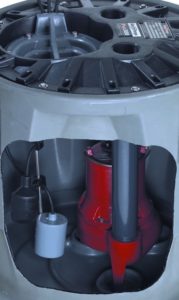 Compared to the P372LE51, the P382LE51 is identical in nearly every aspect except in its dimensions. The basin in shorter and wider instead of taller and narrower; it's 24 inches tall instead of 30 inches and 27-5/8 inches across at its widest point instead of 24-1/2. The basins have the same capacities, but the Pro380 basins are shorter so less digging and a shallower burial is required in difficult soil environments such as clay or bedrock.
Compared to the PRG101A, the P382LE51 is faster, cheaper, and comes with a basin. But because it's powered by an ejector pump instead of a grinder pump, the P382LE51 won't be able to handle difficult solids like clothing, feminine hygiene products, sanitary napkins and diaper wipes and other rags, towels, and difficult solids that people shouldn't flush but might flush anyway. If you're worried about downtime or pump damage due to the potential of such things being flushed, you need to bypass the P382LE51 and move directly to the PRG101A. It'll also give you a stronger motor (1 hp vs .5 hp) and more than twice as much head at 50 feet vs 24 feet.
Our Short and Long Term Experiences Installing and Using the Liberty Pumps P382LE51 Sewage Package
Installation is identical to that of the P372LE51; the manual is detailed and easy to follow, and you'll primarily want to budget about 7 hours for the job if you're experienced with sewage pump installations.
Regarding longevity, the combination of the LE51A internal pump and the pump and switch-preserving features of the basin should provide you with significantly more working life than the lifespan you'd get from the LE51A independently; it should be possible to get up to 20 years with the system, although user results can and will considerably vary. Your ability to pull the float switch if it goes bad without affecting the pump or plumbing also increases the system's lifespan and ease of maintenance.
Troubleshooting and Installation Tips to Get Your Liberty Pumps P382LE51 Working Sooner
As with the other sewage pumps in the Pro380 and Pro370 series, your main issues at startup, should any occur, are likely to involve the pump's not starting, the pump's not stopping, or its running without pumping sewage.
If the pump isn't running, you're probably dealing with one of four things: a power issue, a stuck float switch, not enough liquid to trigger the switch, or a switch that's gone bad. If the pump won't stop, you've either got a stuck switch or one that's gone bad. If the pump starts but doesn't pump water or sewage (because you'll remember to test it with water before with sewage), you'll either have something blocked, jammed, or damaged. It might be a locked or closed discharge, a closed or backwards check valve, a closed ball valve or gate valve, a jammed impeller, or a plugged volute casing.
Most of these issues are easy to fix by replacement or physical adjustment. However, if your pump starts but won't pump, you might also need more head than what your pump can give. The P372LE51 won't give you extra head; we'd recommend switching to the PRG101A, as it tops out at 50 feet instead of 24. Alternatively, if you've got jamming or plugging issues, the grinder in the PRG101A will also be a much better choice than any sump ejector pump-based system.
Liberty Pumps P382LE51 Simplex Sewage System Pros, Cons, and Value Comparison
In conclusion, the P382LE51 is one of the best choices on the market for a sewage ejector pump system. Practically speaking, it does everything the P372LE51 does except in a squatter package, which means less vertical digging and a cheaper installation in an environment with bedrock, clay, or other difficult soil conditions. If you're looking for the most reliable way to pump sewage in an easily-installable package, either the P382LE51 or P372LE51 will serve you well. Our only recommendation would be to choose the PRG101A or its simplex package if you need grinding capabilities to deal with feminine hygiene products, rags, towels, clothing, or wipes that family members, tenants, employees, or customers may flush down your toilets. Let your risk tolerance, clientèle, and budget be your guide.
You can buy the Liberty Pumps P382LE51 here on Amazon. You can buy the Liberty Pumps P372LE51 here. You can buy the Liberty Pumps PRG101A here.  You can buy a good wet / dry vacuum here. You can buy a silent 2 inch  check valve here. You can buy a 2 inch brass ball valve here.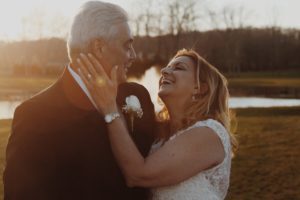 If you find our work at PumpThatSump helpful, you can put our relentless reviewing of every pump and fixture on the market to the test by shopping via our links above for whatever you need to make your house a home. Despite being self-employed, we promise not to spend it all on health insurance.