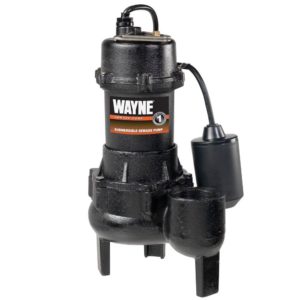 There are many things in life that are worth trying to get as cheaply as possible, but a sewage pump is not one of them. What might seem like a good deal at your local box store can turn into a messy, smelly, and expensive disaster if you're unlucky. We like to play it safe when it comes to machines that carry human waste, and when it comes to sewage pumps, our main recommendation under $400 is the Zoeller M267. It's one of the fastest sewage pumps on the market as well as one of the most reliable. But what do you do if $400 is simply out of budget and you don't want to get burned (or flushed) by a budget box store sewage pump?
This is where a pump like the Wayne RPP50 Cast Iron Sewage Pump comes in. Clocking in at well under $200, it's one of the cheapest sewage pumps on the market that isn't a ticking fecal time bomb. But is it worth the money, or is it too good to be true? In our books, it's worth considering if you're on a tight budget, but it's far from the best out there if you can spend more. Our full review is below, and you can buy it here.
Key Features of the Wayne RPP50 Sewage Pump (60 Second Summary)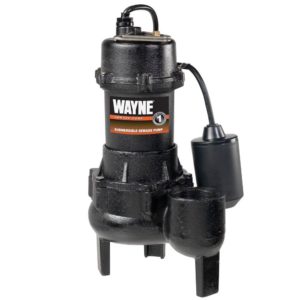 The Wayne RPP50 is an automatic submersible sewage pump (which can also be used as a sump pump). It features a 1/2 horsepower electric motor, a 5,700 gallon per hour maximum water flow rate, and a one year warranty. It is 14 inches tall, 9.5 inches wide, and 6 inches deep while weighing 26 pounds on our scale.
The RPP50 does not include a battery backup. The motor runs on 120V and draws 15 amps through a 9 foot power cord. The working temperature ranges from a minimum of 33F to a maximum of 133F. The pump is self-priming and housed in cast iron. It makes use of a tether float. It uses a 2 inch NPT discharge and can handle solids up to 2 inches in diameter. While it can pump up to 5,700 GPH at zero feet, this rate drops to 3,240 GPH at 10 feet, 900 GPH at 15 feet, and max height and shut-off occur at 18 feet. The RPP50 requires a minimum sump diameter of 18 inches.
How Does the Wayne RPP50 Compare to the Zoeller M267 Sump Pump?
While the RPP50 is a good basic sewage pump, a comparison to the M267 reveals how much it leaves on the table. The M267 is faster at pumping water (7,680 GPH vs 5,700 GPH), has a greater max head (21.5 feet vs 18 feet), and is significantly more reliable; we've come across a number of M267s that have been going for two decades or more, while we've had a much harder time coming across RPP50s that have survived 10 years of service. The M267's 3 year warranty is also significantly stronger and more reassuring than the one year warranty that comes with the RPP50. And on top of all of this, the M267 will also fit into smaller sump basins with a minimal diameter requirement of 15 inches vs 18 inches.
That said, if you're planning on using it as a sump pump instead of as a sewage pump, it's one of the fastest ones you're going to be able to pick up on the market for a very cheap price. It'll also have the advantage of being able to grind through much more debris than virtually any pump designed as a sump pump from the ground up since it's technically designed to work as a sewage and effluent pump. This is one of the primary reasons a number of business owners, plumbers, and homeowners install pumps like the Zoeller M267 in place of typical sump pumps; they're almost guaranteed to never top working due to becoming clogged or having internal motor components break down due to being designed for much more contaminated water removal.
Our Short and Long Term Experiences Installing and Using the Wayne RPP50 Sewage Pump
Installing the RPP50 is rather straightforward for a sewage pump, although you'll either need significant plumbing or DIY experience or the help of a plumber to get in and out of the installation site. If you want to use it as a sump pump, of course, installation will be much simpler. Suffice it to say that you'll want to spare at least a full day (preferably a weekend) if planning a typical sewage pump installation. Installing it as a sump pump, on the other hand, will be doable within a few hours. We've seen under-home installations, basement sink/shower/toilet to sewer line installations, and as septic tank installations where the pump has been used to send water out to drain fields, and it has performed admirably in a variety of situations.
Once installed, you should be able to get at least 5 years out of it, although if you're lucky you might get up to a decade from it. However, there have also been a number of premature failures we've seen due to issues such as bad floats or seized impellers or bad internal circuitry. Unfortunately, the quality control for the RPP50 does not seem to be as strong as that in Wayne's sump pump division, and you'll want to hold on to your proof of purchase (or simply buy it via Amazon so your return information is permanently preserved in your account) just in case something goes wrong early.
Troubleshooting and Installation Tips to Get Your Wayne RPP50 Working Sooner
If you plan to install it as a DIY sewage pump project, first of all, good luck to you. Secondly, keep in mind you'll need a 2 inch-sized threaded adapter so you can connect the RPP50 to the 2 inch PVC pipe you need. You'd also do well to buy additional tubing and coupling adapters in case you break or strip something during the process; you won't want to need to stop in the middle of the job. And of course, you're also going to need lots of PVC cement.
Once you've got the float switch set up, make sure its entire range of motion is free from obstruction; the last thing you want is to have it get stuck open or shut once you've got everything covered up several hours later. More broadly, before you start caulking and bolting your entire installation, make sure both the pump and float switch are working properly. It might seem like a pain to start and stop your water and check for leaks and proper flow through whatever sinks, showers, or toilets you're running through the pump, but if you don't do this now, you might have an ugly surprise later on.
You're going to need a check valve. We recommend the Campbell silent 2 inch check valve. If you buy it, make sure you measure its positioning a few times and fit it while dry. Since you're using rubber and metal couplings and PVC cement, you'll have a very small margin of error, and won't be able to adjust anything you've done after 10 seconds without breaking it to pieces and having to start again (which will require another check valve, so you'll probably want to buy a backup just in case).
It's a good idea to have a good wet / dry vacuum close at hand, even if you're only planning on doing something like switching out a check valve. More broadly, you're going to spill some water and perhaps worse things during such an installation, even if you've done it dozens of times before, and the easier you make clean up, the less time you spend distracted from the actual work you need to be doing. Our wet / dry vac of choice is the Craftsman XSP; it offers enough reach to deal with most messes we make.
Wayne RPP50  Sewage Pump Pros, Cons, and Value Comparison
In conclusion, we're not going to tell you the Wayne RPP50 is the best sewage pump out there, because it's not. The Zoeller M267 costs significantly more and delivers much more when it comes to speed, versatility, and most importantly, reliability. However, if you simply don't have $300 to spend and are in desperate need of a sewage pump, for under $150 the Wayne RPP50 is hard to beat. It'll certainly provide better performance than anything you'll get out of a box store, and if that's the bar you're looking to clear, this will pass it with flying colors. Just don't expect it to last as long as some of the best pumps on the market; realistic expectations are key. Personally, we'd recommend saving the extra $150 for the M267 and up to 20 years of additional maintenance-free peace of mind.
You can buy the Wayne RPP50 here on Amazon. You can buy the Zoeller M267 here. You can buy a good wet / dry vacuum here. You can buy a silent 2 inch check valve here.
If you find our work at PumpThatSump helpful, you can support our relentless reviewing of every sump pump on the market by shopping via our Amazon link for whatever you need to make your house a home. Despite being self-employed, we promise not to spend it all on health insurance.