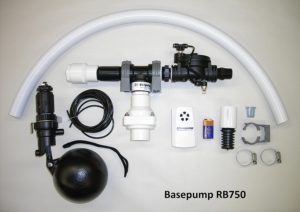 When it comes to keeping basements dry in flood-prone areas, the first step for most homeowners or landlords is to install a sump pump. There are a number of good AC pumps on the market, such as the Zoeller M267. However, unless you live somewhere without power outages and with a pump that will never ever fail, you're also going to need some kind of backup sump pump.
If you're interested in a DC backup sump pump, the choice is simple: the best one out there is the Wayne WSM3300. However, if you aren't interested in charging and maintaining a deep cycle battery or if you deal with frequent flash floods, you might want to consider a backup sump pump that isn't dependent on any kind of electricity. A water-based sump pump relies on nothing but water pressure from your city / suburb water company. It's an elegant, inexpensive, and almost fool-proof solution.
The other day we reviewed one of the standout budget water-based backup sump pumps, the Liberty Pumps SJ10. Today we'll take a look at the Basepump RB 750 Water Powered Backup Sump Pump. It's affordable, it's effective, and it's worth buying if you're looking for a battery-free pump solution. You can read our full review below, and you can buy it here.
Key Features of the Basepump RB 750 (60 Second Summary)

The Basepump RB 750 is a water-based backup sump pump. It does not need batteries or AC power, but does require a constant source of water pressure from a municipal power supply to work. Its maximum water removal rate is 900 gallons per hour and it includes a 5 year limited warranty from Basepump. It is 11 inches long, 6 inches tall, and 4 inches wide while weighing 5 pounds.
The RB 750 features a 3/4 inch water intake connection, although it can be adapted to a 1/2 or 1 inch inlet; the discharge is 1-1/2 inches, and the inlet supply pressure can range between 40 PSI and 90 PSI, with 90 PSI as the limit. It will remove 2 gallons of sump water for every gallon of city water pumped.
Because the RB 750 is water powered, its pumping performance will vary based on inlet water pressure as well as on the pumping head. At 40 PSI and 10 feet of lift, the water removal rate is 700 GPH. This rises to 750 GPH at 60 PSI, 800 GPH at 80 PSI, and tops out at 900 GPH at 90 PSI. The max head, which is also known as the maximum pumping height or maximum lift is approximately 15 feet, depending on your city water pressure as well as the configuration of your piping (bends reduce max height while more inlet pressure increases it).
The RB 750 comes with a battery-operated water alarm that activates whenever the Basepump itself is activated.
How Does the Basepump RB 750 Compare to the Liberty Pumps SJ10 SumpJet and Wayne WSM3300?

Compared to the Liberty Pumps SJ10, the Basepump RB 750 is slightly slower (900 GPH vs 1,188 GPH) and has a much narrower range of acceptable inlet pressures (40-90 PSI vs 20-100 PSI). It also has a much lower max head (15 feet vs 39 feet). They both use the same ratio of city water to expelled sump water (1:2). On paper, as a result, the SJ10  would appear to be the better deal, and in many respects, it is. However, the Basepump wins when it comes to warranty coverage (5 years vs 3 years). Overall, both are well-designed devices and it ultimately comes down to which design you prefer.
Compared to the WSM3300, the RB 750 doesn't require AC power or a battery, but it does require a consistent supply of city water. Unlike the WSM3300, it lacks smart self-monitoring or communicative abilities. It's also several times slower at removing water (900 GPH vs 3,300 GPH) and has a lower max pumping height (15 feet vs 20 feet).
With all that in mind, the biggest differences between the two pumps are in their core designs: if you don't want to depend on any kind of electricity (and statistically speaking, you're much more likely to lose power than you are to lose water pressure), the RB 750 is the better deal. It's also likely to last far longer; it's not unusual for water-based pumps to last for 20 years or more, while battery-based pumps are doing well if they make it past a decade. It is worthy to note you'll pay a bit extra for water, but most people don't find the additional expense significant since water's only used when the pump is running.
Our Short and Long Term Experiences Installing and Using the Basepump RB 750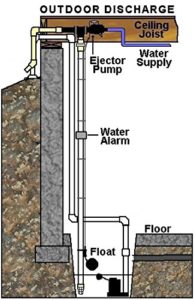 Installing the RB 750 is straightforward if you have previous DIY plumbing experience; your goal is to connect your city water to the pump's inlet, your sump pipe to the sump receiving inlet, and your ejection or discharge pipe to the pump's outlet. The installation instructions are simple and clear, and Basepump has excellent phone support. If you don't want to sweat copper lines and use PVC, you'll want to consider SharkBite connectors and PEX tubing to speed things up. If you'd prefer to have most of what you need bundled with the sump pump, you'll want to look into the sister model, the RB 750-EZ, which we review here.
When it comes to longevity, you can rest easy. Basepump describes their pumps as "extremely reliable", and we'd be hard-pressed to argue with this claim; we've never seen one fail, although statistically, we're sure it's happened here and there from time to time. The fact that we've seen so many examples of units working year after year, however, speaks volumes (and moves water).
Troubleshooting and Installation Tips to Get Your Basepump RB 750 Working Sooner
As noted above, although it's more than possible to install the RB 750 through soldering copper and chopping up PVC, you'll save time (and potentially money) if you just get some SharkBite fittings and PEX tubing.You'll need enough feet of PEX 3/4″ flexible line or copper tubing to run water from your city line to the pump (and of course, you'll need the correct size line or tubing to match your water inlet). When removing water, you'll also need PVC tubing or an equivalent discharge line. If you don't want to deal with shopping for particular accessories and would simply like all you'll need bundled together, you'll want to buy the RB 750-EZ instead.
Depending on the regulations of your plumbing jurisdiction, you might be required to install a back flow check valve upstream (at the inlet) to prevent sump water from flowing into the city water supply. You won't need one on the suction pipe (which brings in sump water), and you typically won't need one on the discharge pipe (which carries away water). If you do need a check valve, we recommend the Brady check valve due to its quiet and reliable operation.
As noted above, the Basepump is a reliable device, and we've seen plenty in consistent operation year after year. Part of these strengths come from the inherent design of water-based sump pumps. Unlike electrical sump pumps, there are no motors to die or float switches to stick or power cords to unplug or batteries to wear out. The main vulnerability they face involve pressure changes–if your inlet water pressure drops below a critical value, they stop working until the pressure comes back. This won't harm them. On the other hand, too much pressure will blow gaskets, break seals, and lead to lots of flooding due to leaks from both incoming city water and sump water. This is why you'll want to make sure you test your maximum water pressure (or know it in advance) before installing this or any other water-based sump pump.
Basepump RB 750 Pros, Cons, and Value Comparison

Overall, we're pleased with the high level of functionality available in the Basepump  RB 750 for a modest price. It's not the fastest backup sump pump on the market or even the fastest water-based sump pump out there, but it's affordable, it's simple to install, and it's as reliable as the best battery-based pumps on the market. Frankly, it's going to be more reliable since it will work as long as you have city water pressure, which is a more reliable utility in most parts of the country than our electrical network. People don't buy water-based sump pumps for speed; they buy them because they offer maintenance free peace of mind for decades with a near guarantee of continued functionality.
You can buy the Basepump RB 750 here on Amazon. You can buy the Basepump RB 750-EZ here. You can buy the Liberty Pumps SJ10 here. You can buy the Wayne WSM3300 here on Amazon. You can buy PEX tubing here and SharkBite connectors here. You can buy a silent check valve here.
If you find our work at PumpThatSump helpful, you can support our relentless reviewing of every sump pump on the market by shopping via our Amazon link for whatever you need to make your house a home. Despite being self-employed, we promise not to spend it all on health insurance.