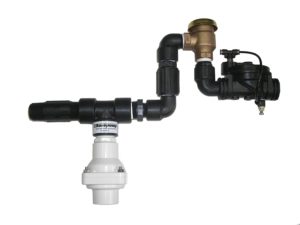 Once you've decided to make a dry basement a priority, you'll naturally want a good sump pump to defend it. If you're looking for the best AC model, look no further: it's the Zoeller M267. The best AC/DC combination model? You want the Wayne WSSM40V. The best DC battery backup? Easy: the Wayne WSM3300. But what if you're specifically looking for a quality water-based backup sump pump? And what if back flow prevention is a priority?
In terms of sheer speed and overall quality, we'd recommend the Basepump CB1500. But if you're on a slightly smaller budget, you'll probably want to consider the 750-series–the RB 750-EZ, RB 750, and the model we're going to take a closer look at today–the Basepump RB 750-AVB Water Powered Backup Sump Pump with Back Flow Prevention Vacuum Breaker. To put it simply, it's an RB 750 with a built-in atmospheric vacuum breaker to prevent back flow of sump water into your potable water line. It's required in some municipalities (e.g., many in Wisconsin, Minnesota, Ohio, and Indiana), and is a good idea for the generally safety conscious. You can read our full review below, but suffice it to say that we think it's a good deal and you can buy it here.
Key Features of the Basepump RB 750-AVB (60 Second Summary)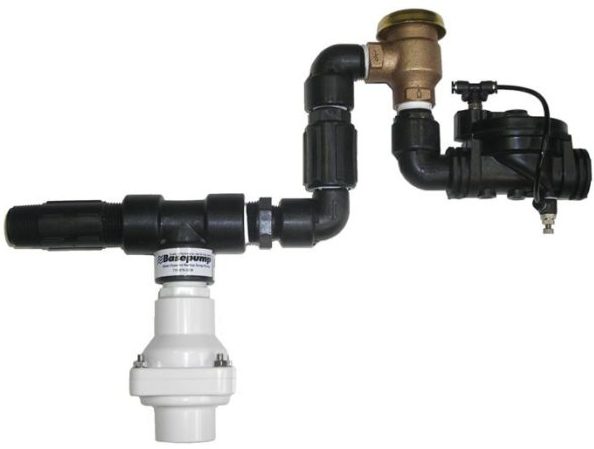 The Basepump RB 750-AVB is a water-based backup sump pump with a built-in AVB for back flow prevention. Being water-based, it doesn't need AC or DC power, but rather a constant water pressure from a city water line. It can clear up to 900 gallons of water per hour (900 GPH) and includes a 5 year limited warranty from Basepump. It weighs 9 pounds and is 16 inches long, 12 inches tall, and 8 inches wide.
The RB 750-AVB's water intake is 3/4 inch sized but can be scaled up to 1 inch or down to 1/2 inch. The sump intake is 1 inch while the discharge is 1-1/2 inches. As with the regular RB 750, it requires water pressure at the inlet between 40 PSI and 90 PSI, and it removes two gallons of sump water for every gallon of city water pumped.
The amount of water pumped will vary based on water inlet pressure and pumping height. It will remove 700 GPH at 40 PSI with 10 feet of lift; this rate rises to 750 GPH at 60 PSI, 800 GPH at 80 PSI, and levels off at 900 GPH at 90 PSI. The max lift is capped at around 15 feet, although your particular limits will vary with water pressure and piping configurations.
Like the other RB 750s, the RB 750-AVB includes a high water alarm powered by an included 9 volt battery.
How Does the Basepump RB 750-AVB Compare to the RB 750-EZ and RB 750?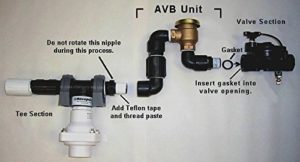 The main difference between the RB 750-AVB and the RB 750-EZ and RB 750 is the inclusion of the atmospheric vacuum breaker, or AVB, with the RB 750-AVB. The RB 750-EZ has the advantage of including a number of accessories in box to make installation faster, but it's more than possible to buy everything you need separately when buying the RB 750-AVB. But what exactly is the AVB, and why might you want it?
An AVB is a way of preventing back flow due to a loss of pressure from the potable water supply in a pumping cycle. If this occurs, it creates a negative pressure, sucking water upstream instead of pushing it downstream. The AVB, which is a valve, then opens to break the vacuum by equalizing pressure, stopping a siphon from occurring. This keeps contaminated sump water from entering the home's drinkable water supply. There is already a check valve included in every Basepump water pump, but an additional level of security can ease fears of homeowners or help keep compliance with local laws.
Our Short and Long Term Experiences Installing and Using the Basepump RB 750-AVB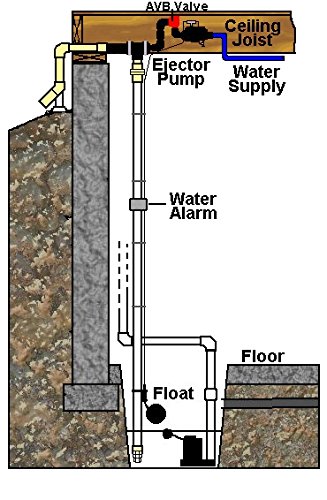 Installing the RB 750-AVB is straightforward and can be expected to take around 3-4 hours with some plumbing experience. The additional time needed for installation compared to non-AVB Basepumps is due to the need to run a separate drain line from the pump rather than being able to connect it to the existing drain line from your main sump pump. While this step does make installation longer, it also helps give you a completely independent and redundant sump pump relative to the main system, which means you won't lose basement water removal capabilities even if your main line becomes damaged or clogged in any way.
The main thing to keep in mind when maximizing the longevity of the RB 750-AVB is that you don't want to exceed its water pressure limit of 90 PSI. If you only remember one thing, remember that.
Troubleshooting and Installation Tips to Get Your Basepump RB 750-AVB Working Sooner
There are a few important things to remember when installing the RB 750-AVB. For example, the AVB valve needs to be installed at least 6 inches above wherever water will be discharged. The design of the pump naturally includes this 6 inch rise, and the water discharge must either remain level or downward-slanting relative to the pump so the water will drain when the pump turns itself off. If the discharge rises above the RB 750-AVB en route outside the home, any additional water will spill back into basement through the AVB valve once the pump shuts off.
It's essential not to patch the RB 750-AVB's discharge into the primary sump pump's discharge, as this will lead to the primary pump's pumping water into the RB 750-AVB each time it activates, and that water will then spill from the AVB valve.
Something else you might want to consider is whether you'd be better served by the RB 750-AVB or the HB1000-AVB, which pumps more water. To use the HB1000-AVB, though, you'll need a water supply that moves more water, since water movement is what powers these kinds of pumps.
The bucket test is a good way to tell what will work for your home. If you can fill a 5 gallon bucket with 5 gallons of water (in other words, to within 2 inches of the brim) from an outdoor spigot in under 40 seconds but in more than 30, the RB 750-AVB will work well. If you can fill it in 20 to 30 seconds, the HB1000-AVB will work in your basement while moving more water. If it takes longer than 40 seconds to fill the bucket, however, the RB 750-AVB is unlikely to have enough pressure to drive it, and you'd be better served with a DC-based sump pump (e.g., the Wayne WSM3300).
Basepump RB 750-AVB Pros, Cons, and Value Comparison

In conclusion, we're not going to tell you that the RB 750-AVB is the cheapest water-based sump pump out there, because it isn't. But it's one of the most secure out of the box you can buy if back flow prevention is a high priority. In fact, the only other water-based sump pump we're aware of anywhere close to the RB 750-AVB in price is the HB1000-AVB. We heartily recommend it if you need to stay within compliance for your place of residence or if you simply want the added security that your potable water supply won't be compromised in any way by whatever toxins, chemicals, or parasites might be contaminating your sump and groundwater supply.
You can buy the Basepump RB 750-AVB here on Amazon. You can buy the Basepump HB1000-AVB here. You can buy the Basepump RB 750-EZ here. You can buy the Basepump RB 750 here. You can buy the Wayne WSM3300 here on Amazon. You can buy additional PEX tubing here and SharkBite connectors here. You can buy a silent check valve here.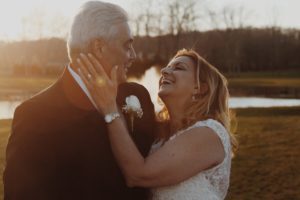 If you find our work at PumpThatSump helpful, you can put our relentless reviewing of every pump and fixture on the market to the test by shopping via our links above for whatever you need to make your house a home. Despite being self-employed, we promise not to spend it all on health insurance.