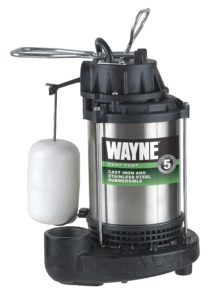 We've had the good fortune of being in business for more than 10 years in the Chicago area, and over that time, we've seen more sump pumps come and go than we care to remember. In principle, a sump pump's a rather simple thing. You want it to flush out standing and stagnant water from your basement and around your house (or swimming pool if you're fancy) before it gets somewhere you don't want it to. But it's hard to find a sump pump that a.) does this well, b.) does this well for a long time, and c.) doesn't cost an arm and a leg (or worse, ten hours of plumber labor on a weekend). As a result, we hesitate to recommend any fly-by-night brands or flash-in-the-pan models. In many respects, you get what you pay for, and we only like to pay once.
Wayne's been doing this for more than 80 years, and they tend to be one of the manufacturers we turn to most on sump pump installations. Today we'll take a look at one of their most popular models and one of our most frequently recommended choices at the $200 or under price point: the Wayne CDU980E 58321-WNY3 Sump Pump. Specifically, it's known on Amazon as the Wayne CDU980E 3 / 4 HP Submersible Cast Iron and Stainless Steel Sump Pump With Integrated Vertical Float Switch. If you're in a hurry and simply want to know whether or not to buy it, yes we recommend it, and you can buy it here.
Key Features of the Wayne CDU980E Sump Pump (60 Second Summary)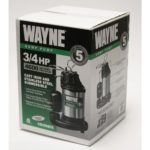 The Wayne CDU980E sump pump is a submersible sump pump with a 3/4 horsepower motor, a 4,600 gallon per hour maximum water flow rate, and a 5 year limited warranty. It's 14″ tall, 10″ wide, and 10″ deep with a maximum pumping height of 26 feet and a switch-on/switch-off height of 4″ and 9″ respectively. The aforementioned pump switch is vertical. It draws 10 amps, doesn't come with a battery backup, weighs 20 pounds, and has an 8 foot-long power cord. Although the discharge flow can reach 4,600 gallons per hour at 0 feet, it drops to 3,500 gallons per hour at 10 feet, 2,550 gallons per hour at 15 feet, and 1,100 gallons per hour at 20 feet. The working temperature spans 40-140 degrees Fahrenheit, it's self-priming and housed in cast iron and stainless steel, and the sump pump outlet diameter is 1-1/2″ FPT. It's designed to be used with sump pits (sump basins) at least 11-inches in diameter.
Our Short and Long Term Experiences Installing and Using the Wayne CDU980E Sump Pump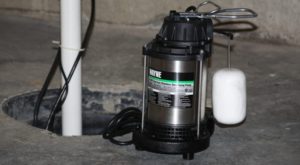 We found the CD980E straightforward to install (keeping in mind the fact that we make around 300 house calls a year). One of the most significant changes we notice whenever putting one into a sump basin is how much more water it moves compared to the typical 1/4 to 1/2 horsepower sump pumps found in most homes. 3/4 horsepower is 50-200% more, and that translates into a lot more water moved per hour.
However, we'd also recommend being careful about moving to 3/4 horsepower if your current sump pump provides 1/4 horsepower or less and your sump pump piping is connected to additional drain connections. The reason behind our thinking here is that we've seen this pump push so much water through systems designed for much weaker sump pumps that it's sent water back into other pipes that drained into the same system as that connected to the sump pump. This shouldn't be a problem in newer (<15 years) homes, but it's something to watch out for if you've got other drains that connect to the pump's line while replacing a much smaller (e.g., 1/4 HP) small pump.
We were particularly impressed by the sold design; it feels solid without being overly heavy. There aren't lots of frilly extensions (read: things that break or get worn away after months of exposure to cold water and cold temperatures) around the body. Similarly, the pump suction intake is located slightly above the base of the sump pump; this means it's placed at a level where gravel and other stones don't constantly get sucked into the pump, rendering it useless at worst and shortening its lifespan at best. Similarly, the inlet is tiny enough to keep stones from being vacuumed in. The fact that a handle is included on top means you don't need to fish it out of the sump through the power cord (though even if a handle weren't included, this still wouldn't be a good idea).
Noise levels are acceptable at this price range; to our ears it's relatively quiet, while we've had numerous clients tell us that it's so quiet that they can't even tell when it's on.  Furthermore, If you've got a house with an external sump pump (e.g., one next to your kitchen or laundry room), or if you've got a home on a slab, you'll be very happy with the CDU980E; it works well in basements but we've received thanks from people in tears who'd dealt with repeatedly flooding kitchens or ground floors until we installed this. We've also noticed a trend of people who've called us in to replace Flotecs; if you have the FPZS33T, we'd recommend you save time (and repeated floodings) and just upgrade straight away to the CDU980E.
Troubleshooting and Installation Tips to Get Your Wayne CDU980E Working Sooner
If you're installing the CD980E on your own, you'll want to add a sump pit cover in order to avoid the dreaded "sump pump water" smell; it's not quite as bad as raw sewage, but it's a close cousin, and you won't want to spend time in your basement (or as the smell gets worse, near any source of water in your home) if you don't seal the basin. The sump basin cover should be airtight; we recommend using silicone caulking and bolting the cover itself to the floor.
In general, when your current sump pump starts short cycling, that's a sign that you're going to want to replace it soon; don't wait until the last minute because years of experience installing sump pumps tells us that your sump pump's going to fail when you least need it to (e.g., during the heaviest rain fall of the year. Which will also be on a weekend. Of a national holiday).
Remember to also order a sump check valve if necessary for your specific installation case. Similarly, remember to drill a 1/8″ relief hole (i.e., a vent) in your discharge pipe (see the instructions) so water beneath the pump's check valve will be able to return to the sump.
Above, we noted the inclusion of a handle above the sump pump to make it easier to retrieve from the sump basin. We'd go a step farther and attach a plastic or metal chain to the handle so you'll have even less trouble removing it from the sump pit.
Wayne CDU980E Sump Pump Pros, Cons, and Value Comparison
Overall, we're hard pressed to recommend a better sump pump on the market right now at the sub-$200 price point. It's not perfect (we wish the power cord were longer than 8 feet, although we're happy it's extendable), but it's hard to fault it at this price range for how much power it delivers and how reliable it is. Whether you're doing gut renovations for flipping properties or just a simple homeowner tired of flooded basements, at $200, this is everything a sump pump should be.
You can buy the Wayne CDU980E sump pump here on Amazon.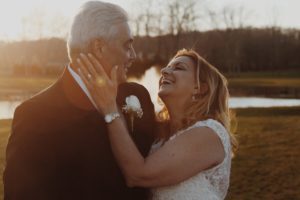 If you find our work at PumpThatSump helpful, you can put our relentless reviewing of every pump and fixture on the market to the test by shopping via our links above for whatever you need to make your house a home. Despite being self-employed, we promise not to spend it all on health insurance.